Our dearest Sister Crescenzia Torchia left us for the House of the Father on June 14, 2018 – (at our convent  in Toronto, Canada and our Superior General Mother Victoria Valentino, in the name of the whole Congregation, sent her farewell greeting:
Dear Sisters, dear family and friends present,
"Who lives for the Lord Lives forever"
We are gathered together to celebrate in praise and  with Faith the passage of my and our dearest Sister Crescenzia, from this world to the Father; yesterday at about 4 am, Sister Crescenzia saw the dawn of a new day, of the day without sunset, because she left the temporal condition of this earthly  life to enter the eternity of God, –    God who she has known since her  childhood and at the  age of 25 had decided to leave everything and follow Him more closely!
I met Sister Crescenzia 40 years ago, in 1978 in Rome.   I was impressed immediately by this strong and industrious, enthusiastic and generous nun, of a profound and simple spirituality. We were together for twenty years and I saw the immense love that she expressed to others through her humble and important service as a community cook. We had a very large community, and between the sisters and university girls we were about fifty.    However Sister Crescenzia was tireless and attentive to each one!
With Sister Crescenzia, the feasts that we celebrated were always different and special.  She lived everything  very intensely and with a lot of passion, from a true and authentic southern Italian.
Despite the hard work, as a true daughter of Mother Carmela she has always been able to harmonize Martha's life with the prayer life of Mary. Every day, in addition to community prayer, in the early afternoon she could be found in the Chapel, praying for everyone;  she lived  far from her own family physically but not spiritually and emotionally.   I can say that her family members were   so dear to us as she spoke of them : Cecilia, Ornella, Tonino, Michele, Saverio and all the others had a special place in her prayer and in her heart ;   that heart that yesterday stopped beating here on earth, but continues to love in heaven.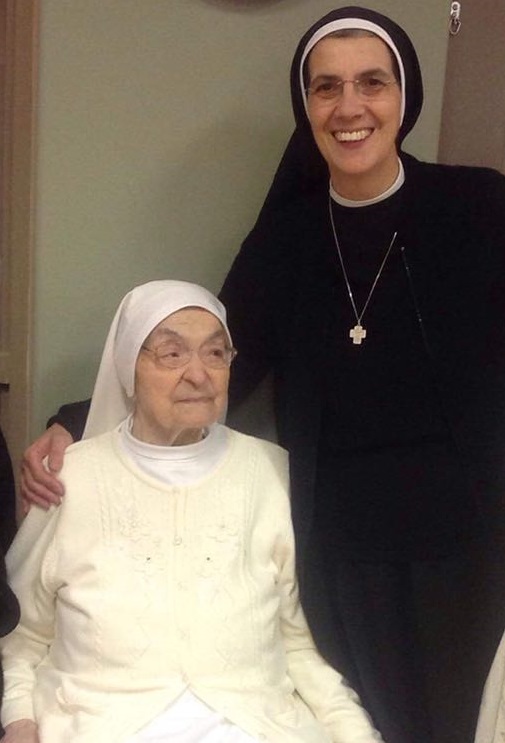 Dear Sister Crescenzia , I thank you in the name of all the sisters of our Religious family, where the Lord has called you and where you have lived almost your whole life with great love and a strong sense of belonging.  I thank you for what you have been for us-  You leave us with a great memories   and a very big emptiness, but we are certain that you are already in eternal bliss and that you will continue to love and pray for us. You have been able to give to others    so  many smiles and words of comfort   –  may you enjoy now the smile of God Himself and his Blessing on you.
Thank you dear Sister Crescenzia ! Pray for all of us, for your Canada and for your Italy, for the children and their families, for our teachers and all our friends.
Together with you we say:
"I know that my Redeemer lives, without my flesh I will see him and my eyes will see Him  – not as a stranger. "
Mother Victoria Valentino
Superior General